Welcome back to my itsy-bitsy corner od the web! I am shocked by how fast the year went by and I can't believe that next week is Christmas! YAYYYYYY!!
Christmas sometimes gets busy, and while everyone is bustling getting gifts, they forget the true meaning of Christmas. Jesus and Love!
Sometimes people are so busy getting gifts for their loved ones, they are mean to others, even their loved ones!
So here's a little post with a few ways showing you how you can spread love in this season!
1. Hot Choco
Everyone loves hot chocolate, so why not give some of the warm drink to a cold person! Buy some disposable coffee cups with lids, a multi-cup carrier, and make some hot chocolate. Deliver it to folks working outside or to anyone else who needs to feel the warmth of the season.
2. Yummy Gratitude
Bake a pie or something yummy and drop it off at your local firehouse or police station on Christmas Day. Those guys and gals working our streets don't get the holidays off!
3. You've got a friend in me
Invite a lonely neighbor or friend over for dinner. Not all of us are fortunate enough to spend Christmas with family—but no one should spend it alone. Consider inviting them over 😀 ( and if you're a kid, ask your parent's first xD)
4. Operation Christmas Child
Operation Christmas Child is an amazing experience! We've been doing it every Christmas. To learn more go here!
5. Gift an experience you can enjoy with a loved one.
Another alternative to waiting in long lines at department stores and risking your present being tossed in the trash is gifting an experience that you and your loved one can enjoy. Like taking your beloved daughter to see Hamilton with the original Broadway cast with a backstage pass so she can hug all her smol beans and say hi to all the Hamilton people and start crying while hugging them and showing them fanart she made. *wink* mom. *wink* dad.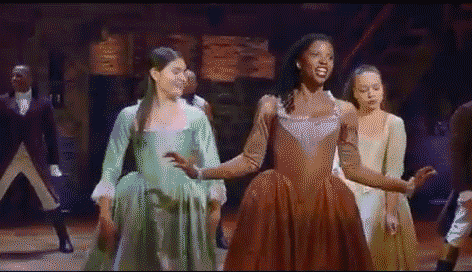 6. Smile More
Simply just smiling at a person can make their day. Sadly in this world now, people aren't used to smiles. Because whenever I smile at random people they think I'm weird. But, if more people smile it will become normal again! So smile and ya never know, maybe you'll build an amazing friendship!
7. homemade from the heart
Homemade gifts may not be as fancy as flashy storebought gifts. But homemade presents are made from the heart and are cherished forever.
8. Kindness Counts
You would think it's easy to be kind during the holiday season. But sometimes even the best of us become scrooges. We take a lot of things for granted. Like food, or even having the money to buy gifts. So remember to think about the others going through hard times. Be kind. Do one kind thing for a person instead of trying to change the whole world.
9. Forgive
There's no better time to show forgiveness toward someone who has wronged you than today. Christmas should be a reminder about all that Jesus has done for us and how we can exemplify Him through our actions.
10. Love
Loving others may sound clique and the word love may be overused. But truly love others this season. Spread joy and merriness (is that even a word?) and smile.
What can you do to spread the love this holiday season?